Ils jouent et parlent des Woodslide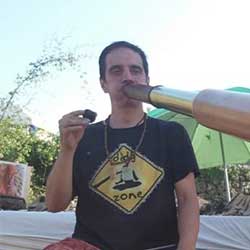 Alberto Aparici
---
Spain
« From the moment I had it in my hands I could see the good work of this didgeridoo. The tunings are very well achieved and its sound in all its tunings is very good I use it with other musicians and they think their sound is great. Thanks for this great instrument. »
Lukas Eggelin
---
Suisse
« I was traveling the Woodslide 3 months through Europe. Everywhere we played spontaneous jams, small concerts. That was only possible thanks to the Woodslide, because adjusting the pitch is so easy. Thank you Jean-Yves for your masterpiece! »
Jaime D.
---
France
« J'ai commencé avec le grand modèle woodslide qui m'a permis de développer mes sous vibrations en jouant en Sol grave et de muscler mes lêvres en jouant en Fa.
Mon jeu a fait un bond.
Les hoots sont tellements simples que c'en est indécent.
Je joue maintenant sur la version travel avec son poids plume je l'emporte partout.
Et oui avoir plusieurs didgeridoos en un avec cette qualité sonore est extrêmement rare (je suis adepte des didgeridoos accordables..) une puissance alliée à une telle clarté des harmoniques est simplement jouissif !!! »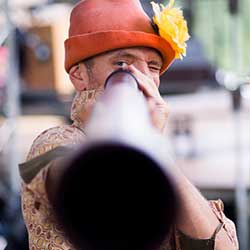 Christophe Chatel – Mr Giraph
---
France
« Mon Woodslide est à la croisée d'un arc-en-ciel et d'un couteau suisse. Il se transporte partout et peut servir sur tous les paliers de notes, de fréquences et de styles musicaux.
Conçu en étroite collaboration avec le fabricant, l'instrument épouse mes intentions de jeux et surprend par sa finition parfaite ! »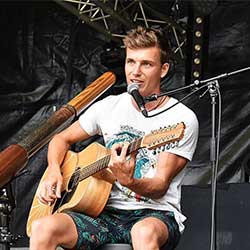 Guilhem Eolya
---
France
« Joueur de Woodslide depuis 3ans, cet instrument fabriqué par le talentueux Jean-Yves m'a vraiment permis d'explorer beaucoup de facettes du Didgeridoo.
Je l'utilise personnellement avec une Guitare 12 cordes, dans mon set.
Grâce à ses coulisses, on peut travailler avec un didg' très aigu pour bien muscler le diaphragme et les jours, ou, en version très longue, travailler la finesse du jeu de lèvres !
Le fait qu'il soit accordable permet de jammer avec tous les zikos, et ça c'est vraiment top ! En résumé, un pur régal, que l'on soit débutant ou joueur confirmé, Woodslide est la solution ! »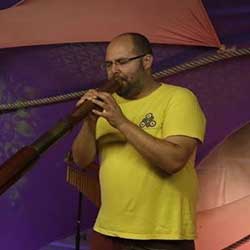 Tomás Carro Alvite
---
Spain
« Hola mi nombre es Tomás Carro Alvite!!
Llevo tocando el didgeridoo desde el año 2000. Tengo mi Woodslide desde el año 2015 y está es mi impresión sobre este fantástico instrumento:
El Woodslide es de los mejores didgeridoos de viaje en madera que una persona pueda comprarse, tiene un drone con un buen equilibrio en graves y su relación drone y tutt suele ser de una octava, lo que lo hace increíble a la hora de tocar. Además el rango de notas desde las más agudas a las más graves son fantásticas, haciendo de este instrumento impresionante cuanto mas grave es su drone!!
También es un instrumento que permite realizar todas las técnicas de didgeridoo conocidas y la presión en cualquier nota es muy equilibrada!! También deciros que podéis personalizar el tipo de maderas, haciendo único y personalizado.
Espero que os haya gustado mis comentario acerca de este fantástico didgeridoo que es el Woodslide!!
Muchas gracias Jean-Yves Redor por tu maravilloso trabajo!! »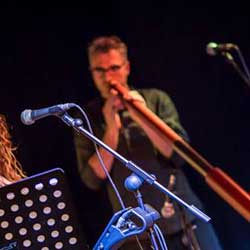 Fabio Glagliardi de Tupa Ruja
---
Italie
« Just yesterday I was talking to my wife and I told her that if I came back I would buy your woodslide another hundred times!
It's a very versatile tool and it plays very well on all the notes. I love its sound on the notes « D », « C # », « C » and « B », which are the ones I play the most in my songs.
it is durable, easy to disassemble and clean, and has an ideal size for traveling.
Before having a woodslide I took at least five didgeridoos for each concert. Now I bring only my woodslide and a didgeribone. Even the quality ratio with the price is really good and your professionalism and punctuality are really impeccable.
Aesthetically it is perfect. All my students the first time they see him are stunned and want to see and hear. »
I am attaching a photo taken during a concert of my group « Tupa Ruja » at the Auditorium Parco della Musica in Rome, and I send you the link to a song of that concert titled « Como or ar do mar », (contained in our next album that will be released in a few months, where I played only with your woodslide!) and an improvisation.
Mathieu Vassault
---
France
« Je suis ravi du WoodSlide, j ai débuté le didg avec et à mon avis c'est comme une guitare quand tu as un bon instrument et que tu y mets le prix bien sûr tu progresses beaucoup plus facilement et rapidement.
Ça fait deux ans que j'ai acheté mon WoodSlide et je ne le regrette pas du tout. J'ai énormément progressé, grace aussi à son jeux qui est facile d'accès. Un débutant le fait sonner facilement.
Je progresse vite  grace à la qualité et la facilité de jeux du woodslide encore merci pour ce travail ! »
Clément
---
France
« Le didgeridoo woodslide m'a permis d'élargir mon jeux rythmique de part l'aisance sonore qu'il transmet et sa précision. Une praticité très utile du fait de pouvoir changer la note de jeu. Son evantaille de sonorités aussi grave que aiguë permet une véritable expention de l'instrument. il n'est jamais trop loin de mes mains et que la globalité de se qu'il peut transmettre est un réelle échange de bonheur !
J'ai avec moi ceci »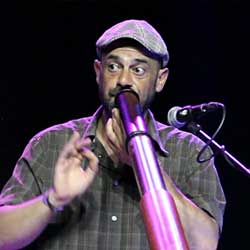 Óscar Martín – Rasco Nitram
---
« I like to play didge with other musicians playing other instruments and any music style but, before knowing Woodslide, it was sometimes a problem with the key of the song: if my didgeridoo is not tuned in the key of the song, my didge has no place in that song. That's why I thought « Woodslide is the didgeridoo I need ».
Now I can play always, and carrying just one didge, because my Woodslide can play an octave, don´t matter the key, don't matter 440 Hz or 432 Hz… I can tune my didge always. Have you felt the sound of two or more didgeridoos tuned exactly in the same frequency?  it's another universe. With your Woodslide you can play in the same frequency of any didge of the world. You can also tune the first trumpet in the same key as the drone sound, what is very harmonic.
Maybe you can find another didgeridoos with the same features but not with the vibes and the warmth of the sound of the wood. The didgeridoo is an instrument made of wood. »
Découvrez les WoodSlides disponibles !